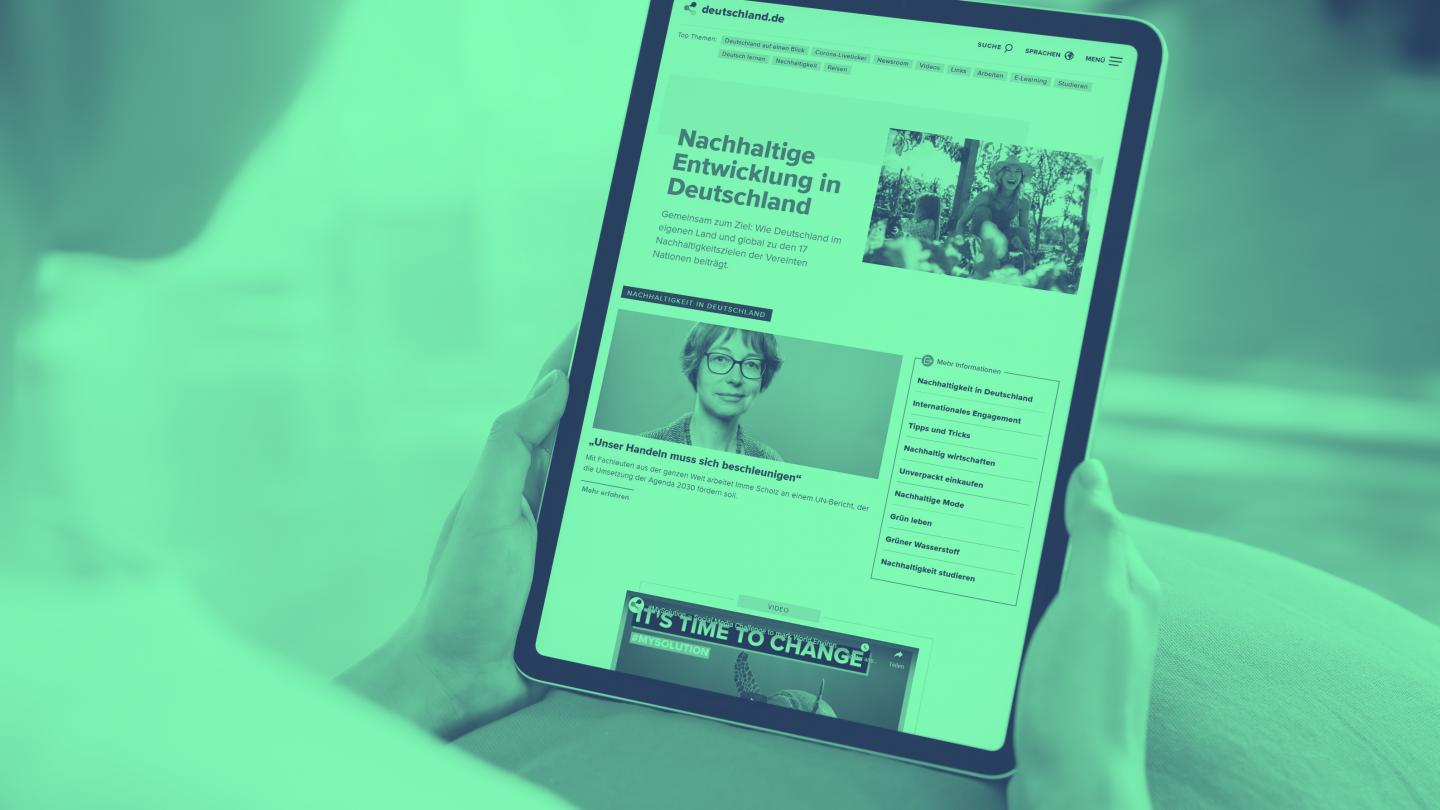 Websites
We develop creative, innovative and multilingual websites for our clients. We take internet users on a digital journey to German research facilities and cultural monuments. We keep people living abroad informed about what is currently happening in Germany, and we raise the international profile of German development policy.
Painting a digital picture of Germany
On behalf of the Federal Foreign Office we operate Deutschland.de, the digital hub for the strategic communication of Germany's image abroad. We paint a diverse and vibrant picture of Germany – presented in a way that is easy to understand, contemporary and attractive. We provide information about topical events in ten languages. The website is currently the digital anchor for 15 social media offerings on different platforms (Facebook, Instagram, Twitter, Weibo). In addition, we use it to distribute the Deutschland Edition e-paper.
akzente magazine
The energy transition in Morocco, vocational training in Pakistan, climate action in Mexico – the Deutsche Gesellschaft für Internationale Zusammenarbeit (GIZ) carries out development work around the world. Through the magazine akzente, we support the GIZ in its communication with its clients and other interested individuals. We present our content in German and English. With its contemporary and sophisticated design, akzente features powerful images of the GIZ's work to give readers a lasting visual impression. The magazine is supplemented by web reports, videos, image galleries and podcasts, and the print version appears quarterly.
Research in flow
We not only design large-scale portals, but also offer smaller-scale monothematic communication solutions – in the form of so-called page flows, for instance. The internet portal Research in Germany is the central information platform for "promoting Germany as a location for innovation and research", an initiative of the Federal Ministry of Education and Research. Designed in the form of a page flow, our multimedia report in the "Plan your stay" section is aimed at an international target group.