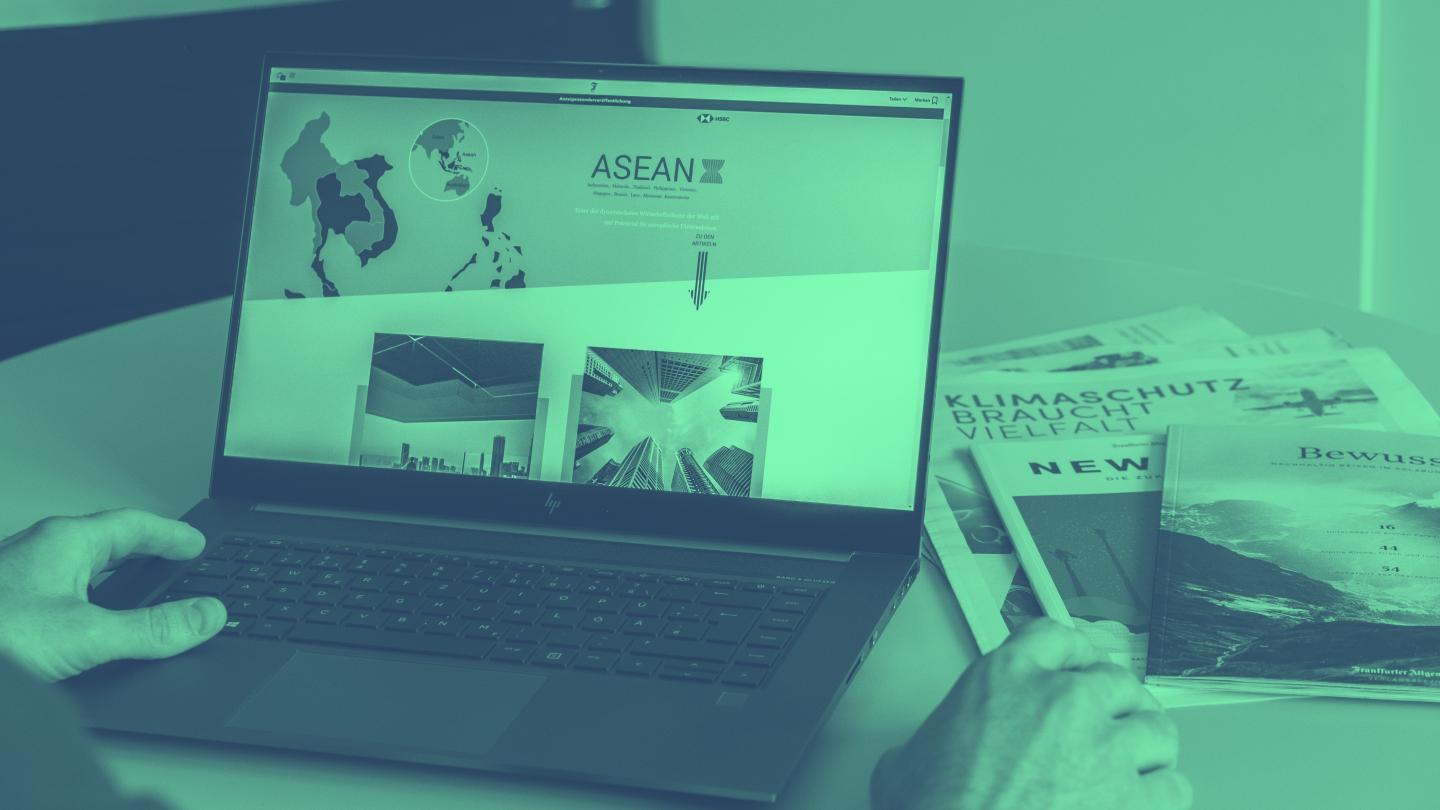 Specials
For REPUBLIC, the company that markets the Frankfurter Allgemeine Zeitung and Süddeutsche Zeitung newspapers, we produce editorial specials and advertising material – 170 of them in all in 2020, including digital storytelling formats and content hubs, plus printed magazines and supplements. Our clients come from many different industries and have recently included companies such as Accenture, McKinsey and HSBC; Audi, Bentley and Jaguar; Lanxess, Sanofi and Siemens Healthineers. In addition, we regularly run location marketing campaigns for numerous companies such as Singapore, Corsica and the Austrian state of Salzburg.
Digital responsibility
We have been operating the "Vor:Denker (Corporate) Digital Responsibility" content hub on FAZ.NET for Deloitte and the F.A.Z. Institute since 2019. On this platform, experts illuminate various aspects of digitisation and a new brand of corporate digital responsibility. Interview partners include such high-profile individuals as the digitisation expert Lena-Sophie Müller, the AI professional Chris Boos and Udacity founder Sebastian Thrun.
Saxony as an innovation hub
With a population of roughly four million people and covering an area of some 18,400 square kilometres, Saxony is Germany's sixth-largest state. In cooperation with REPUBLIC, we have developed a cross-media campaign to promote the state, entitled "New Work". Siew comprises a 52-page magazine and a content hub on FAZ.NET. In it, we shed light on current developments relating to the future of work, and showcase innovative companies and inspiring individuals from Saxony.
Green and innovative
In 2008, Marco Voigt launched the Green Awards to pay tribute to people whose inventions and engagement make a positive contribution to the climate transition. In 2018 this gave rise to the Greentech Festival. Each year, thought leaders from different industries come together to spend two days discussing a green future – always accompanied by Fazit. Since 2018, we have been working closely with the people behind the Greentech Festival to produce an annual special for the Frankfurter Allgemeine Sunday edition.
Eco-awareness – sustainable travel in Salzburg
Regional culinary delights, the most wonderful mountain experiences and traditional artisanry await readers of the SalzburgerLand-Magazin. Together with REPUBLIC and the SalzburgerLand Tourismus GmbH, Fazit has developed a travel magazine that explores Salzburg and the people who live there to illustrate the strength and attractiveness of this holiday region. It is not only the content that is all about sustainability – the production process is as sustainable as possible, too: the 68-page magazine was printed on high-quality recycled paper. It appeared as a supplement in the F.A.Z. and F.A.S. newspapers and was additionally published as an e-magazine in the F.A.Z. Kiosk.
Climate action needs diversity
How can we make our energy supply carbon-neutral by 2050? Will liquid energy sources soon become a thing of the past? For the Institut für Wärme und Mobilität (IWO) we pool our cross-media competencies each year to combine diverse approaches to climate action with vibrant print and online designs. "Klimaschutz braucht Vielfalt" (Climate action needs diversity) is a specialist publication that appears as a print supplement in the F.A.Z. (also sent to the Bundestag), as an e-paper and as a conventional online advertorial on FAZ.NET.