Our team has four new members: Natascha Kittler began working at Fazit in August, followed in September by Maren Beck, Brigitte Spitz and Jörg Döbereiner. All of them will be helping at our Frankfurt offices to ensure that our clients continue to be offered the highest possible quality in terms of content and concepts.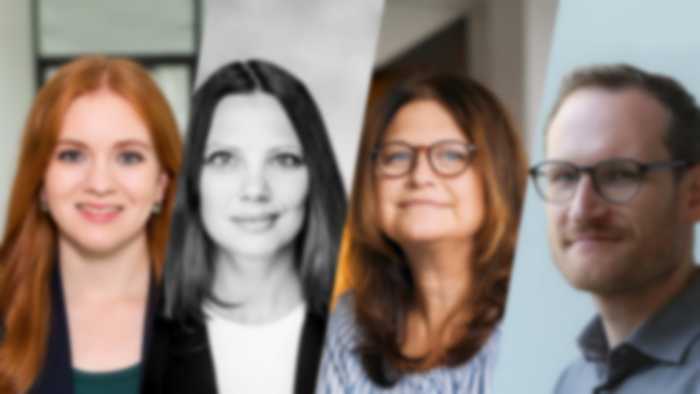 Natascha Kittler has joined our social media team. She recently completed a European Commission trainee programme in Brussels. She already knows our organisation because she worked for FAZ.net while still doing her master's degree in politics. Incidentally, the new Silk Road was the subject of her master's thesis. Having spent various periods abroad, she has come to the conclusion that it does no harm to occasionally look beyond one's own nose. Besides international policy issues, sustainability is one subject close to her heart – especially criticism of consumerism.
Maren Beck will head Fazit's conceptual department in future. She comes from Tempus Corporate, the content marketing subsidiary of the weekly newspaper Die Zeit, where she was employed in the same role. Before her time in Hamburg, she had worked as a creative planner and copywriter for various advertising agencies in Zurich, including for several years with Jung von Matt and Leo Burnett. Having originally graduated with a bachelor's degree in International Communication, she followed up with a master's in Moving Cultures – Transcultural Encounters after pursuing a professional career for ten years. This led her to conclude that the more you know, the less you know. As a result, her typical journalistic curiosity knows no bounds.
Within our editorial team, Brigitte Spitz will be focusing on topics relating to international cooperation. After graduating in German language and literature studies, she has worked all over the world, written many foreign correspondent reports, done an internship at the "Guardian" and spent twelve years at the "Frankfurter Rundschau", where she was head editor in the politics, commentary and reporting department before working as a freelance author. What she (still) finds so fascinating about her job is telling the stories of inspiring people: be it that of an Albanian craftsman, a Laotian paediatrician, a Nobel Peace Prize laureate from East Timor or a queen.
Jörg Döbereiner will mainly be writing for us as an editor on the Development and Cooperation magazine. For the past seven years he has worked for the environmental and consumer magazine Öko-Test. A number of stays abroad, including at the Goethe-Institut in Tanzania, heightened his awareness of the impact of globalisation. He is so fascinated by the German language that he first studied it and then learnt during an internship at the daily newspaper Nordkurier how to use it as a journalistic tool. Ever since, he has been determined to make every text as good as he possibly can.
Our CEO Jonas Grashey: "We are delighted to be welcoming colleagues with such outstanding qualifications to Fazit: bright individuals who are a perfect fit for our team and tackle the demanding and highly relevant topics of our clients with complete conviction. They will help us to further develop our journalistic formats and fill them with content and substance."
We look forward very much to working with all of you – so a warm welcome to Fazit!