With Christmas just around the corner, the hunt for presents has begun. One excellent source of inspiration is our book publishing house with its fascinating range of books that feature everything from the digital state to a politically incorrect review of 2021. This year, we have published a total of 14 books. Here are just a few of our recent publications.
On blunders and rhetorical own goals
Every Saturday, a column by F.A.Z. editor Berthold Kohler appears. Entitled "Fraktur – Politik ist, wenn man trotzdem lacht" (Fraktur – politics is when one laughs nonetheless), it features his satirical take on noteworthy occurrences in the political arena. We are introduced for instance to Mr and Mrs Gates, who end up fighting for the underground chip factory following their divorce. Or Donald Trump, who after his miracle recovery from coronavirus mutated into both Jesus Christ and Superman. The book contains a selection of Kohler's columns about blunders and rhetorical own goals in politics and society. It is illustrated with drawings by Wilhelm Busch – to match the black humour of the content.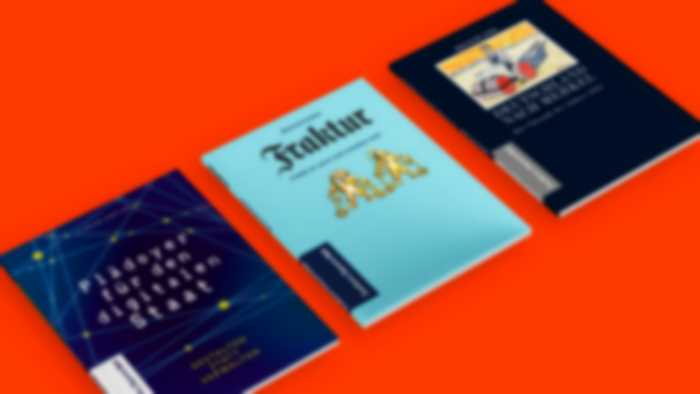 A politically incorrect review of 2021
For already the seventeenth time, Greser & Lenz are publishing a rather unusual review of the year. Together with Berthold Kohler and F.A.Z. domestic policy chief Jasper von Altenbockum, the two cartoonists take a critical but witty look back at 2021 in "Deutschland nach Merkel" (Germany after Merkel). Though the pandemic naturally plays a central role, religious scandals, the situation in Afghanistan and the Bundestag elections are all subjected to the same humorous scrutiny. Some of their caricatures even made it onto the front page of the F.A.Z..
The digital state
Moving away from an analogue government and towards a digital state: in his book "Plädoyer für den digitalen Staat – Gestalten statt Verwalten" (A plea for a digital state – creatively shaping rather than merely administrating), the German political scientist Florian Hartleb reveals how e-government can function successfully. Using Estonia as an example, he explains which basic legal principles are necessary, how data protection and data security can be guaranteed, and what digital transformation would mean for society. A fascinating read for anyone interested in politics and journalism.