Fazit produces the magazine loyal for the Bundeswehr Reservist Association. It is the leading security policy magazine in the German-speaking world. With a circulation of 125,000, loyal reaches not only every member of the Reservist Association, but also decision-makers in the Bundestag, in the Federal Ministry of Defence, in the Bundeswehr, as well as in industry, associations and media. Besides providing well-founded analyses of German defence policy and international policy, loyal has also made a name for itself with its reports from the world's war and conflict regions.
Because of the pandemic, it was not possible for quite some time to travel to such regions. Now, however, loyal has once again been able to report from a trouble spot in Europe that has moved out of the public focus in Germany: the front line in Ukraine next to the pro-Russian separatist territories in the Donbass region. loyal editor-in-chief André Uzulis and photographer Stephan Pramme had the opportunity to go and inspect this so-called contact line, where fighting still continues on a daily basis. Soldiers are dying there every month. Uzulis entitled his report, which appeared in the October edition of loyal, "The Forgotten War".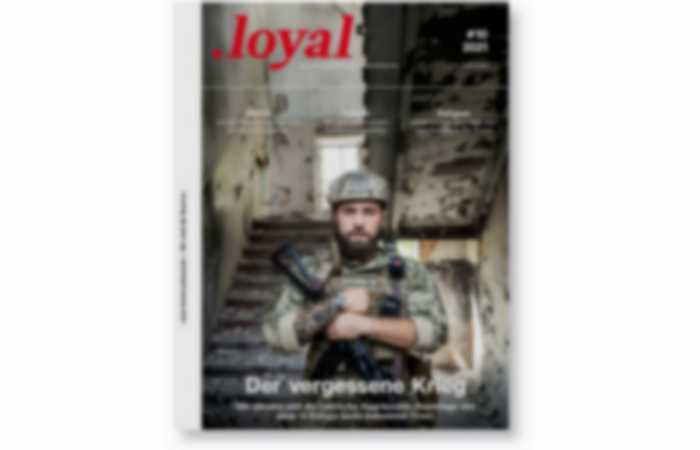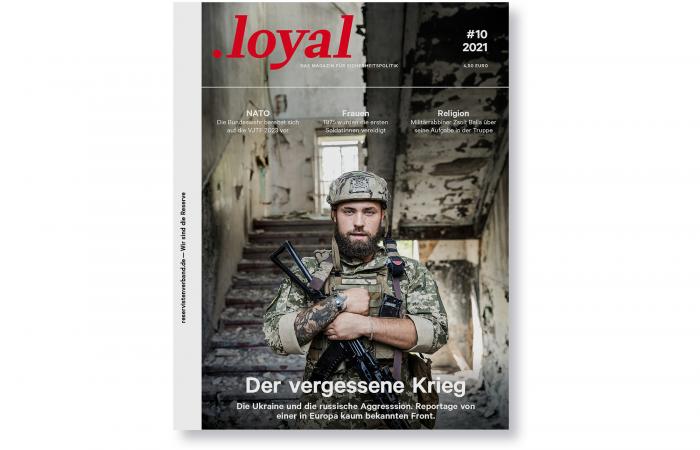 The trip took him and the photographer to the ghost town of Pisky, in the ruins of which a battalion of the Ukrainian army is stationed. They were able to talk to soldiers there who reported on their combat experience with the pro-Russian separatists and spoke about the drone attacks launched by the other side. Close to a country road that is controlled by pro-Russian snipers, the two reporters met Staff Sergeant Andrii at Butovka station, a former coal mine, who had already been deployed there in 2014. He was injured at the time and continued to fight for five hours with shrapnel in his body.
In a destroyed industrial complex in the city of Avdiivka, which had been occupied by separatists in 2014 but was then recaptured by the Ukrainians, Uzulis and Pramme finally came to with 70 metres of the pro-Russian positions. Ukrainian soldiers there reported how they had to spend eight months living in ruins. They talked about their yearnings, their girlfriends and families, and what motivated them to go to war voluntarily to fight for Ukrainian independence.